PRISON CALLING AND SMART e-PURSE CARD SYSTEM
We have developed an Automatic Calling system with Smart e-Purse Card System for Prisoners, which allows the prisoners of Jail to make calls to any two pre-registered (verified) phone numbers and purchase items in a secure and automate manner. The system ensures that no calls can be made on other/non registered numbers and no calls could be made more than the specific duration/Pulse defined by the Jail Admin. There would be an Option to display Third number where Prisoner can make call for the grievance reporting. This number can be defined by the Jail Admin. The System also records complete conversation which can be fetched by the officers whenever required.
SCOPE OF WORK
Prison Call System & Smart e-Purse Card System to include the following:-
Software development as per requirement.
Sourcing, installation & provisioning of the hardware as per the requirement of the software.
Configuration of the software with hardware as per requirement of the system.
Complete active and passive cabling to establish the LAN and power supply to the hardware being installed for the system required.
System should include integration of Prisoner Management System, Visitor Management System, Hospital Management System and any other system which will be sourced from the third party.
Successful installation & commissioning of the system & subsequent comprehensive annual maintenance for the entire solution.
FUNCTIONAL ARCHITECTURE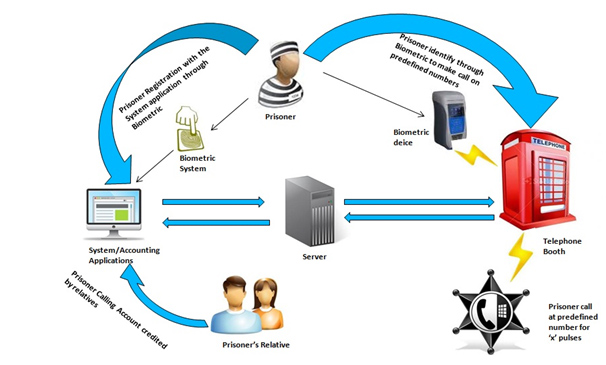 SOLUTION BENFITS–
Increased transparency in the overall functioning of the System
No Manual intervention is required- Complete Automate process
Most Secure and easy to Handle Process
No more calls to undefined or new/unknown numbers
Provide single click DATA & Management Information Services (MIS) for Department
Make Department's Telephone Billing clear and hence increase revenue